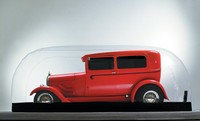 Many people own a car that they prize highly. Car enthusiasts invest a tremendous amount of time and money into their vehicles. Collectors learn every detail regarding how their car should look and run. Hot rod fans take this information and alter vehicles to express their own vision. Antique car buffs, muscle car fans, and sports car aficionados each appreciate the styling and mechanics of autos to a higher degree than the average person.
Collector cars often require specialty parts and paint schemes that aren't available at the neighborhood garage or parts store. Antique car buffs, muscle car fans, and sports car aficionados may own one vehicle or several. Restoring and maintaining a car can be expensive. Auto storage options can also be pricey, and often require a degree of trust that the vehicle will not be in harm's way due to exposure to various elements. Rare and exceptional vehicles are of financial and historic value, and classic car collectors take on the responsibility of protecting these assets.
For the expense and energy put into owning and maintaining a prized vehicle, keeping it protected from costly mishaps is very important. Car capsules are a vehicle storage solution that is both economical and effective. Car capsules encase a vehicle in an inflatable bubble of protection that guards against dents, scratches, and dust. A fan keeps air circulating, so cars are also protected from mildew and rot.
The capsule itself is flame, mildew, and rot resistant and creates an enclosed environment that can withstand a blow from a hammer. Vehicles stored in car capsules won't be damaged by an errant rake or broom handle. The herculite base is impervious to oil, antifreeze, and gas. Car capsules are a great way to display and protect vehicles. Just as display cases keep model car collections safe from harm, car capsules protect collector cars. Car capsules come in various sizes to accommodate different body styles and dimensions.