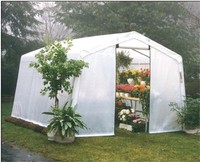 If you've been to your local lawn and garden center lately to pick up seedlings to plant a garden for flowers or vegetables, you may have been astonished at the high prices. A great option for gardening enthusiasts to save on the expense of purchasing plants year after year is to set up a greenhouse. Installing a greenhouse kit is a fun project. You may design your interior however you prefer and enjoy a year round growing season.
Starting a garden from seeds is far less expensive than buying plants. You may even harvest seeds from your own plants to propagate in the future, instead of buying every year. In particular, exchanging flower seeds with friends and neighbors is an enjoyable and cost-efficient way to expand a flower garden.
You can truly achieve bountiful results season after season growing with a greenhouse. You may cut grocery bills, enjoy fresh and healthy produce, and enjoy the time spent connecting with nature. You may decide to sell your surplus to a local grocer or donate your excess bounty. Food shelters, community centers, and retirement facilities may appreciate fresh produce as well as bright and beautiful fresh flowers. Community gardening projects might also be in need of starter plants which can help you control your inventory of seedlings each season.
Greenhouses can be easily erected using greenhouse kits. These are available in various sizes for you to choose your best option. Ventilation options to control temperature and moisture levels will help you establish a year round growing environment to start seeds for a seasonal garden or care for plants in a controlled setting.
Garden hobbyists can care for prized plants or environmentally sensitive plants in a climate-controlled, comfortable space. Fruit trees, herb gardens, flowers and vegetables, or whatever you fancy actually, can be carefully attended in the comfortable shelter of a greenhouse. You, your friends, and your family will appreciate fresh produce or fresh cut flowers at various times throughout the year. With planning, you can achieve a plentiful harvest of your favorite vegetables or keep flowering plants thriving all year.