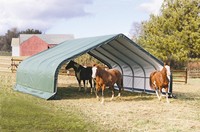 In general, horses and livestock are fairly rugged creatures. They are capable of withstanding broad ranges of climate and terrain. Even still, it is in the best interest of the health and well-being of these animals to provide a run in style shelter. These loafing sheds provide an escape from harsh weather conditions. They protect animals from extreme weather conditions and can minimize the danger of maladies such as frostbite, sunburn, and heatstroke.
Durable and portable horse shelters are available for very affordable prices. Instead of pricey wood construction, light weight portable horse barns are constructed of durable steel frames and specially constructed canopy covers. These run in sheds are light weight and can be installed quickly and taken down as needed. This flexibility is a great value adding feature for shelter that will keep your animals comfortable for years.
These portable run in shelters are available in several sizes to accommodate one horse or several. If you have issues with a dominant horse, the sheds can be conveniently modified to include stall areas to keep dominant horses happy and provide safe access to less aggressive animals. Run in sheds offer a comfortable place for animals to get out of sudden rain storms or blistering winds. When the sun is baking down, loafing sheds are a great place to find shade.
You can keep your horses healthy and comfortable in a run in shed. Horses and livestock are susceptible to the perils of weather extremes just like humans and any living creatures. Providing access to a sheltered resting place keeps your animals content and protected. Portable horse barns may also be used for hay storage, or as feed sheds. These buildings are customizable to accommodate a host of storage needs including farm tools, horse tack, and equipment.