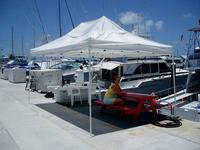 Warm weather and sunshine entice people to participate in outdoor activities. People love the feeling of warm sun on their skin, but too much can lead to painful sunburns and potential sun-poisoning. Shade canopies provide an escape from the sun and heat so people can enjoy the sun without overindulging.
Flea markets, car shows, concerts, and other outdoor events are great sunny day activities. People often attend destination events in good weather. Tailgating at concerts or sports events can be a lot of fun, but too much sun exposure can ruin a fine day with friends. A pop up canopy is a great option to provide much needed shelter from the sun's harsh rays.
Install a canopy by a dock, at the beach, or poolside for a cool vantage point to watch kids at play or enjoy a book without the glare of the sun. Boating, beach days, and other water activities are typically sun intensive. It's easy to lose track of time at the shore enjoying the beach and watching ships on the water. A little sun goes a long way, and canopy shade is a welcome respite from the strong rays on waterside locations.
At home, a shade canopy is a wonderful addition to backyards, decks and patios. Picnics, pool time, and barbecues are a great way to spend time with family and friends relaxing in the warm outdoors. Providing a little shade for the comfort of your household and guests can prevent sunburns and heatstroke and gives an attractive space for people to relax in comfort.
A little shade provides great relief from the glare and heat of a sunny day. Canopies are available in different colors, sizes, and styles. Quick clamp canopies are portable shade solutions and are easy to install on decks, bleachers, and picnic tables. Canopies provide practical and attractive shade for people to enjoy warm weather activities without suffering the consequences of too much sun.