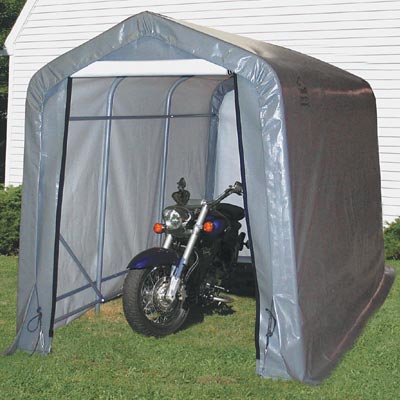 Spring is on its way, and as winter bids farewell, it's time to think about spring cleaning. This is a time not only to clean indoors, because your yard requires some seasonal attention as well. Plenty of yard work and landscaping preparations are in order. Portable garages make transitioning from winter to spring a more organized and hassle-free time.
The accoutrements of winter include some fun items such as snowmobiles, sleds, skis, snowboards, snowshoes, and snow tubes. Along with these are the standard snow shovels, snow blowers, and ice choppers/scrapers. A great way to put winter behind you is to store winter items in a portable garage.
Winter toys and equipment are expensive and keeping them covered with a portable garage protects them. Portable garages come in sizes to suit various needs. From a smaller shed to a multi-port garage to a very large truss building, portable buildings are available to suit your storage requirements.
Ah springtime! Along with the warming temperatures, spring is a time to look forward to getting outdoors. Lawn equipment, pool supplies, motorcycles, RVs, ATVs, antique cars, and more will get some time in the sunshine. To properly store and protect these items, portable garages are a wonderful solution.
You may use a portable garage to seasonally rotate the items you store. For example, looking ahead to spring you may take out your spring and summer items such as your lawnmower, boat, RV or camper, jet skis and lawn equipment, and you can store your winter toys and equipment in their place.
Instead of one portable building, you may find it practical to have a couple of storage buildings dedicated to each season's supplies. A pool shed, for example, could house all of the necessary equipment and items to keep your pool running in the warmer months and neatly secured in the colder seasons. Winter storage could be used exclusively for snow blowers, snowmobiles, and the like, in order to keep these items protected from the elements and organized. Likewise, spring supplies and lawn equipment can be housed in a purpose-minded storage building.
A portable garage for vehicles is always a good storage solution. Keeping antique cars, motorcycles, RV's, and campers under cover protect these investments. Depending where you live, seasonal vehicles such as motorcycles, boats, four-wheelers, snowmobiles, and dirt bikes find safe accommodation under a portable garage.