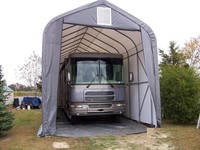 But first-year seasonal vehicle owners might not know what to do, especially when a garage has scant interior space. A portable building, or a portable garage, carport, or portable shelter by any other name, offers an economical strategy, but for the experienced and the new, take these tips into account:
For first-time owners:
1. Follow the weather. Is your region rainy, snowy, or dry in winter? This essentially determines the style of building right for your needs. If you expect heavy precipitation, select something with a rounded design. If you're simply looking for coverage and don't expect several feet of snow, consider the traditional peaked building.
2. Determine length of usage. Is the shelter something you'll set up for a few months at a time, or will it turn into a versatile building kept up throughout the year? As a general rule, always opt for a stronger frame for year-long use: That may be a galvanized steel structure, or one with square tubing.
3. How much space? How many vehicles will be kept underneath? Before you browse, calculate the length, width, and height for every vehicle and investment in storage and add a few feet around each side. Once you have this figure, you're ready to find the right fit.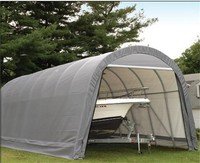 4. Select a set of anchors. If you haven't figured it out already, portable garages need to be anchored into the ground to live up to their full potential. Select a set of anchors that will effectively keep the structure in place on the ground below.
For the experienced owner:
1. Enclose it. If your shelter is a valance carport used throughout the year, find sidewalls and panels to give your boat or RV full coverage.
2. Check connections. If any metal parts or connectors are experiencing rust or the powder-coating is chipping off, find a suitable replacement part to repair the shelter.
3. How's the canopy? The polyethylene cover tends to go sooner than the metal frame, so if spots now appear worn or display holes, order a replacement canopy before the vehicle needs to go in storage.