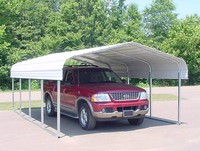 A recent article praises the benefits for carports. And, really, it's about time that such structures are praised in the media. While various types of portable shelters exist, carports are some of the most requested, particularly for everyday use. If you own a carport, be it a fully metal model or a metal and polyethylene structure, you're probably aware of all the benefits, particularly when it comes to protecting your car from UV rays and snow. Of course, most of these protective properties really only work when the carport is properly anchored. Anyone who owns a carport knows that all models need to be anchored in the dirt or in concrete.
Regardless of whether you get a rounded roof or peaked carport, anchorage is important for it to withstand heavy snowfalls and strong winds. In the case that a carport isn't properly anchored — and this is seen nearly any time a snowfall or winds hit an area of the South or Southwest — the roof of the structure collapses or the frame may topple over, exposing the vehicle or, worse, falling on top of it and causing damage. In all cases, the legs of a carport should be set in concrete or attached to some kind of metal anchor on a dirt surface.
Aside from anchoring these structures, the frame is what keeps a carport protective and effective. Each one, regardless of type, is made from galvanized steel. Roofs on fully metal carports are also made from this material and then coated with silicon. Polyethylene carports, on the other hand, have a canopy in addition to the metal frame, and this material is treated to be UV resistant and waterproof, as well as mold and mildew proof inside and out. In all instances a carport is used, the structure protects the vehicle from any snowfalls, water damage, and damage due to UV rays.